Monitoring Query Costs in BigQuery by user using SQL and the Query Logs
BigQuery is a SAAS Software, you get charged based on the amount of data scanned by your SQL Queries. Monitoring cost is very crucial in a cloud data warehouse. It helps us optimize the bad queries and reports and helps us get the maximum ROI from the data warehouse. BigQuery recently introduced a new INFORMATION_SCHEMA views for viewing the query logs. This view will give us,
List of all the queries executed
Who and when was the query executed
Query metrics, including bytes processed, time taken, and the actual query itself
Example:
DECLARE timezone STRING DEFAULT "US/Eastern";
DECLARE gb_divisor INT64 DEFAULT 1024*1024*1024;
DECLARE tb_divisor INT64 DEFAULT gb_divisor*1024;
DECLARE cost_per_tb_in_dollar INT64 DEFAULT 5;
DECLARE cost_factor FLOAT64 DEFAULT cost_per_tb_in_dollar / tb_divisor;

SELECT
 DATE(creation_time, timezone) creation_date,
 FORMAT_TIMESTAMP("%F %H:%I:%S", creation_time, timezone) as query_time,
 job_id,
 ROUND(total_bytes_processed / gb_divisor,2) as bytes_processed_in_gb,
 IF(cache_hit != true, ROUND(total_bytes_processed * cost_factor,4), 0) as cost_in_dollar,
 project_id,
 user_email
FROM 
  `region-us`.INFORMATION_SCHEMA.JOBS_BY_PROJECT
WHERE
  DATE(creation_time) BETWEEN DATE_SUB(CURRENT_DATE(), INTERVAL 30 DAY) and CURRENT_DATE()
ORDER BY
  bytes_processed_in_gb DESC
feel free to replace JOBS_BY_PROJECT with JOBS_BY_USER or JOBS_BY_ORGANIZATION
Execute the Query in the Big Query Console: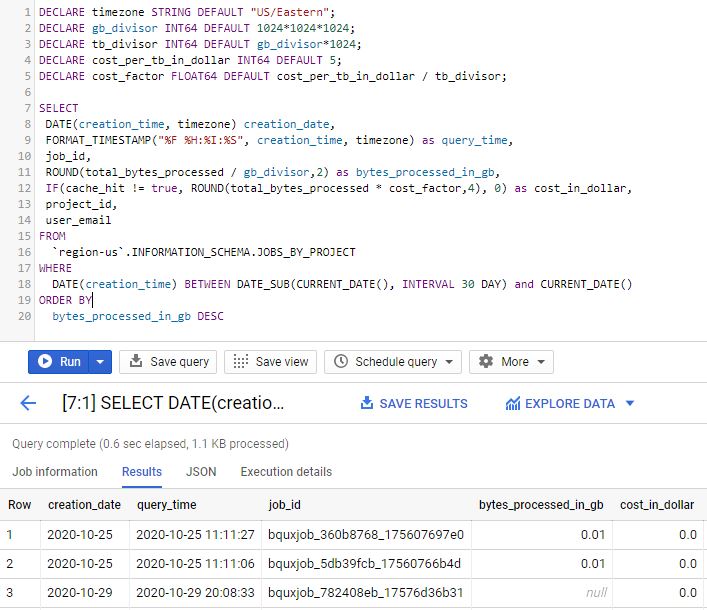 Usage Notes:
the JOBS_BY_* views are regionalized, i.e. we must prefix the region (see region-us in the view specification) and must run the job in that region
The views will need additional IAM permission in order to work
The data in these views are currently only available for the past 180 days
Enjoy great content like this and a lot more !
Signup for a free account to write a post / comment / upvote posts. Its simple and takes less than 5 seconds